PIERRE-PAUL MAILLÉ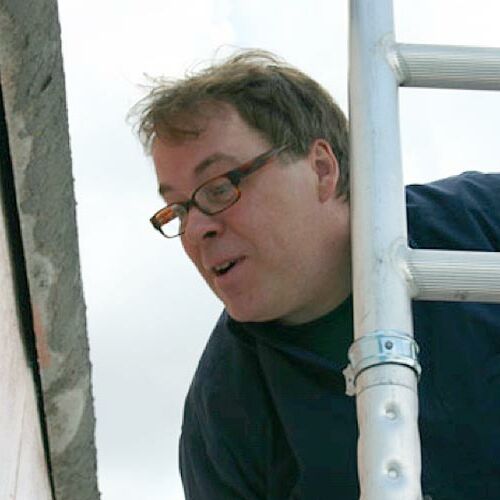 Born in 1962 Montréal/Canada, he studied Fine Arts and Art History at Concordia University in Montréal and received a scholarship for a specialization course in Sculpture at the Université du Québec à Montréal. He has lived in Germany since 1988.
Since 1979, Maillé has participated in numerous group exhibitions in Montréal, Wiesbaden, Berlin, Baden-Baden, Munich, Tokyo/Japan, Lòdz/Poland, Ville-Marie/Canada and Helgoland. He is one of the artists who helped design the East Side Gallery in Berlin.
His sculptural oeuvre is influenced by Henry Moore and Max Bill. His abstract sculptures are pure form - soft lines, supple, flexible, round, alternate with sharp, hard edges.
EXHIBITIONS (SELECTION)
2013


11th OpenAirGallery, Oberbaumbrücke, Berlin

2011


"Blend of Arts - the Chinese-German Art Exhibition", artist group Paradox,Tianjin, China

2010


The Dragon of East and West, Artist Group Paradox, Chinese Cultural Center, Berlin

2009


East Side Gallery, Berlin

2007


"Printed Impressions" Stuben Gallery, Klein Machnow

2006


"Art is an island" Artist group Paradox Helgoland
Presenters Hamburg

2005


The dragon of east and west, artist group Paradox, Osterode am Harz
East-Side Gallery at the Goethe-Institut Athens, Greece

2004


"Yellow" Gallery Waimer, Günzburg, Germany
Gallery Aquaforte, Great Christmas Accrochage, Berlin
Gallery Mill, Mallmö, Sweden
Shandong Provincial Museum, Ji-Nan, China
German-French Days in Ispahan, Iran
The Dragon of East and West, artist group Paradox, Rochlitz Castle, Germany
The Dragon of East and West, artist group Paradox, Schönfeld Castle

2003


"Yellow", Gallery Dorothea Schrade. Illereichen-Altenstadt
Four elements, Gallery Schwartzsche Villa, Berlin
Gallery Aquaforte, "Portfolio works etchings",Berlin
Tanja Drewitz,Berlin
Gallery Waimer, Günzburg
"Art department store", Leipzig
"Berlin Ostbahnhof meets EAST SIDE GALLERY"
Gallery Sjoida, Berlin

2002


"Tango Tango", Lowell Rizzo Gallery, Munich, Germany
"Great Wall Art Exhibition", Jixian, China
"Project Tianjin", Water Island Tianjin, China
"Forum I", Gallery AProPoS, Berlin

2001


"Let's dance", Intel AG, Munich, Germany
SCA AG, Paris
Gallery Lowell Rizzo, Munich
Authors Gallery 1, Munich

2000


Gallery Rutz, Munich
SCA AG, Munich
Sculptures of Pierre-Paul Maillé